October 31st the Tournament of Champions kicks off!
Eight of the best racers ever to pilot a Cygnus Pizza ship will compete in brutal head-to-head races to find the ultimate champion!
Starting October 18th, you get to vote for the tracks they will race on, and you can use your patreon votes to shake up the brackets… and then October 31st the race is on. Only one racer will take home the Tourney Champion Hat, only one racer will get the paid voice role in Smugglers of Cygnus, and only one racer will win physical Deluxe Edition of Smugglers of Cygnus!
The race for the best of the best kicks off as each race is done as a live best of 5 head to head racing series.
The racers will be setting up a time that's good for them to do the live head-to-head over the month of November, with the finals being the end of December.
Stay tuned for race dates!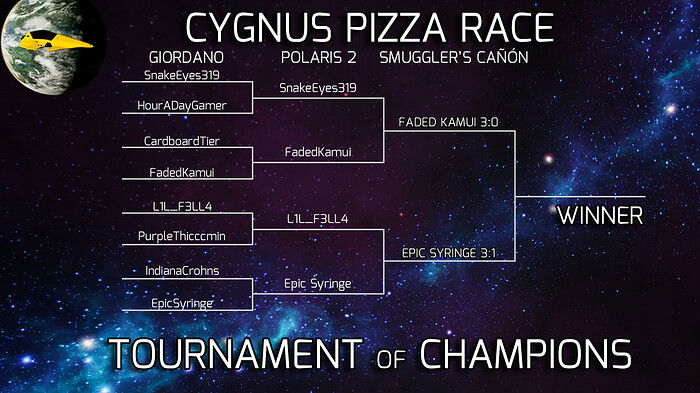 Meet the Champions:


HourADayGamer has retired to the wealth and prestige of the intergalactic sports commentator circuit after his two back-to-back wins. He'll be back for the Tournament of Champions , but don't worry, I'm sure he will post his insight (and track times) to inspire the other racers this month. As a retired champion, he was in a position to help refine the track and help us prepare it for the big event.
Catch his streams on twitch!


Indiana Crohns , the man who doesn't know the meaning of the word quit . He took the tracks by storm in the April tourney, with a fiery win on track 13. He will be back to claim the ultimate prize in the Tournament of Champions - but don't worry, he will also share his encouragement, critiques, and phenomenal track times with this month's racers!
Come hang out and see his amazing plague doctor masks on Twitch


Purple Thiccmin is an indie variety streamer and speedrunner with a penchant for precision and a hunger for victory that was barely appeased when he planted @GardenOfIndie on May's Track 14. Sure to have plenty of tips for fellow racers this month!
Catch his speed running skills on Twitch or on Glimesh!


Cardboard Tier is a dog-loving beard enthusiast with huge streaming skills and excellent race form. He put in great times every month finally climbing to victory on June's fast and furious Track 15. He has at last proved to everyone that when it comes to racing, his tier is Epic.
Check him out on Twitch!


Commodore L1L F3LL4 is part wyvern, part man, part myth, and all speed. Tireless in his promotion of his fellow indies, he and his wife form an amazing team chasing the ultimate glory: the Cygnus Pizza hat. After an amazing victory in July where he wasn't satisfied with winning just 3 races out of 5, but wanted to win the whole pie, he's here now to help encourage the future champs.
Watch L1L_F3LL4 on twitch!


SnakeEyes319 is part ninja, part indie streamer, and part Racer X. He came to this tourney to deliver pizzas and chew gum, and when he ran out of gum there was nothing left to do but win.
Catch his great relaxed streams on Twitch!


EpicSyringe said it best in his bio:
"I'm a variety streamer with an emphasis on bodying bosses. And this month, I'll be bodying the bosses of CPR. I heard they were tough, but I'm epicness incarnate. And nothing gets the better of me. You best be prepared Cyprus, the absolute legend has arrived!" He most certainly delivered last month, when he beat the leaderboard topping @FadedKamui in the nail-biting final! Now he's a force to be reckoned in the final Tournament.
Follow him on Twitch to see the legend unfold!


Commodore FadedKamui is a huge supporter of indie games and a great streamer who streams on Glimesh . He has proclaimed his intent to dominate the tournament so be prepared for him to leave all of his great manners and niceness by the wayside - that's just extra mass when he's coming for the Pizza!
Watch his streams over on Glimesh and be prepared for a chill time.